The Southern Ontario Centre for Atmospheric Aerosol Research (SOCAAR) at the University of Toronto is an interdisciplinary centre for the study of air quality, with a focus on how pollutants impact human health and the environment. SOCAAR brings together medical personnel, atmospheric chemists and environmental engineers, and promotes collaborative research through access to state-of-the-art facilities and partnerships with government and industry.
Workshop on Near-Road Air Pollution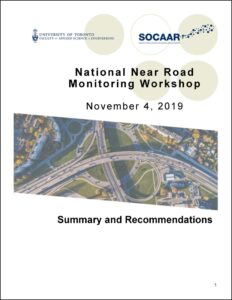 Following the publication of the Near-Road Air Pollution Pilot Study, a national near road monitoring workshop was held in November 2019. It attracted participants from federal, provincial, regional and municipal government agencies, non-governmental organizations, and academia.
Breakout discussions identified many ways to further mobilize and follow-up on the findings from this study. These are compiled in this report in terms of 1) ways stakeholders can work together to reduce exposure, and 2) recommended follow-up actions.